---
Live Group Coaching
---
Elevate your trading and achieve mastery of VWAP with an intensive four-week crash course.
$400
---
Get Started
---
12+ hours of coaching over 8 sessions, all recorded for review
Custom Intraday and Multiday VWAP indicators included
Free lifetime access to our community chat room
---
View hundreds of trade examples in the VWAP Chart Gallery
---
---
Coaching Schedule
Strategy Session 1 (2 hours) – Day trading with VWAP, interpreting standard deviation bands, an overview of our four primary trade setups, and analyzing VWAP slope to gauge market credibility
Q&A Session 1 (1 hour)
Strategy Session 2 (2 hours) – Applying VWAP to swing timeframes, including multiday and event-driven VWAPs spanning several days to several years
Q&A Session 2 (1 hour)
Strategy Session 3 (2 hours) – Putting it all together — both big picture (trading plans, trading styles, and trading frequency) and the details (analyzing setups, entry/exit criteria, and managing risk)
Q&A Session 3 (1 hour)
Strategy Session 4 (2 hours) – Historical VWAP trade analysis and a detailed discussion on trading psychology/mindset
Q&A Session 4 (1 hour)
---
New cycle starts on the first Monday of every month.
---
---
You'll receive six custom indicators coded by Zach himself, ranging from intraday VWAP to multiday VWAP and volume analysis.
---
VIEW AVAILABLE PLATFORMS
---
---
Our customized version of standard intraday VWAP, which includes multiple standard deviation band inputs and color-coding to reflect the market's current position and slope.
Serving as an essential visual reference point, this indicator creates the foundation for the four primary trade setups we'll cover in the first coaching session.
---
---
Includes access to the VWAP Chart Gallery with 800+ examples demonstrating the strategy in action.
The Active Trading Cycle
---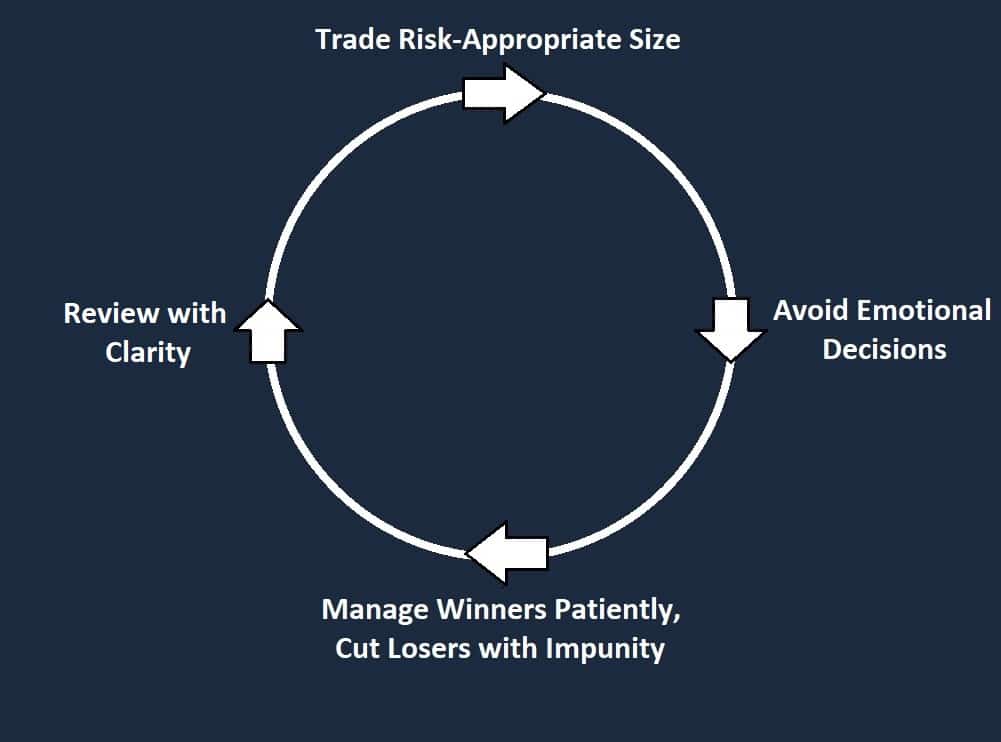 ---
Volume-weighted average price has been undervalued and overlooked by the non-institutional trading world for decades. Our goal is to open your eyes to what it's truly capable of and help you harness its impact to become consistent, confident, and profitable.
But despite its efficacy, a strategy alone will not make you a successful trader. So in addition to a comprehensive look at VWAP and how we use it, this course also covers fundamental concepts such as:
Preparing and implementing a trade plan
Reducing the impact of emotional decision making
How to determine your personal trading style (type, frequency, sizing)
Managing expectations and focusing on longevity over short-term results
Hear what other traders are saying about Zach…
Totally blown away by the trading generosity and knowledge of @ZachHurwitz ... 1000% recommend as a coach and mentor

— Louis (@FastEasyFit) February 23, 2019
I really appreciate @ZachHurwitz for the convo earlier today. REALLY smart and just a great person to learn from 🙌🏻

— Jesus Guzman (@Jesusizabeaner) July 2, 2018
Thank you @ZachHurwitz for a great session.We could talk for hours dude! Your VWAP knowledge is outstanding.I look forward to our next chat!

— Tim (@SpecInvestor) March 24, 2016
First heard of @ZachHurwitz back in 2015 in @chatwithtraders pod. Sent him and @TheVWAP a msg, and now 2018, still willing to touch base reg my interest. He's very down to earth, easy to converse w/, humble but confident, and flexible w/ my sched. Looking fwd to learning from him

— M (@mgomez186) May 16, 2018
Just finished a session with @ZachHurwitz great insight and inspiration from a super friendly guy. Thanks Zach

— Ashley Renz (@ashleyrenzjp) February 11, 2016
---
---
Group Coaching FAQ
---
---
What do I need to know to get started?
A preliminary understanding of the markets — basic knowledge of technical analysis, risk management and introductory trading principles — should be more than sufficient.
We've streamlined the curriculum such that an advanced understanding of VWAP is certainly helpful but not required. To get a head start before the first session, check out our free resource guide if you haven't already.
---
What happens after I sign up?
After checkout we'll email you a link to our course scheduler, allowing you to select your preferred stating date up to three months in advance. Choosing this date will automatically enroll you in the following included seven sessions over the course of the month.
You'll be able to access the custom indicators and chart gallery through our coaching portal immediately after signing up. Admission to the chat room will be granted after your final strategy session.
---
What if I can't attend a session?
All sessions will be recorded and uploaded to a private video gallery. If you can't attend one of the Q&A sessions, you'll be able to submit questions in advance.
---
How do I download and install the custom indicators?
You'll be able to log in to the coaching portal and download the code ahead of the first session, as well as view step-by-step instructions on importing and adding the studies to your charts.
---
Can VWAP be used for swing trading, options, small caps, etc?
While we'll focus on equities and use them for the majority of chart examples during the sessions, this strategy can absolutely be applied to other trading vehicles. Zach has worked with dozens of options and futures traders for whom VWAP became an intuitive approach to determining market type and direction.
---
"The difference in my trading compared to a year ago is like night and day. I honestly never expected I'd be at this level with my trading, but now that I am I realize how far I've come with your help.
I've spent thousands on other education, but nobody else seemed to have a genuine interest in my trading development. It's immediately apparent when someone treats teaching and coaching like a chore, versus someone who's passionate like you. You're not only interested in my progress, I can tell you're dedicated to it."
---