---
VWAP On-Demand
---
A comprehensive educational package designed to teach you our unique strategy and provide you with all of the tools necessary to implement it yourself.
---
What's included?
---
After signing up you'll receive immediate access to our member portal, where you'll find:
Over 8 hours of video modules
Six custom-coded VWAP indicators
Free ongoing chatroom access
Q&A and course suggestion forms
Chart gallery with 500+ examples
---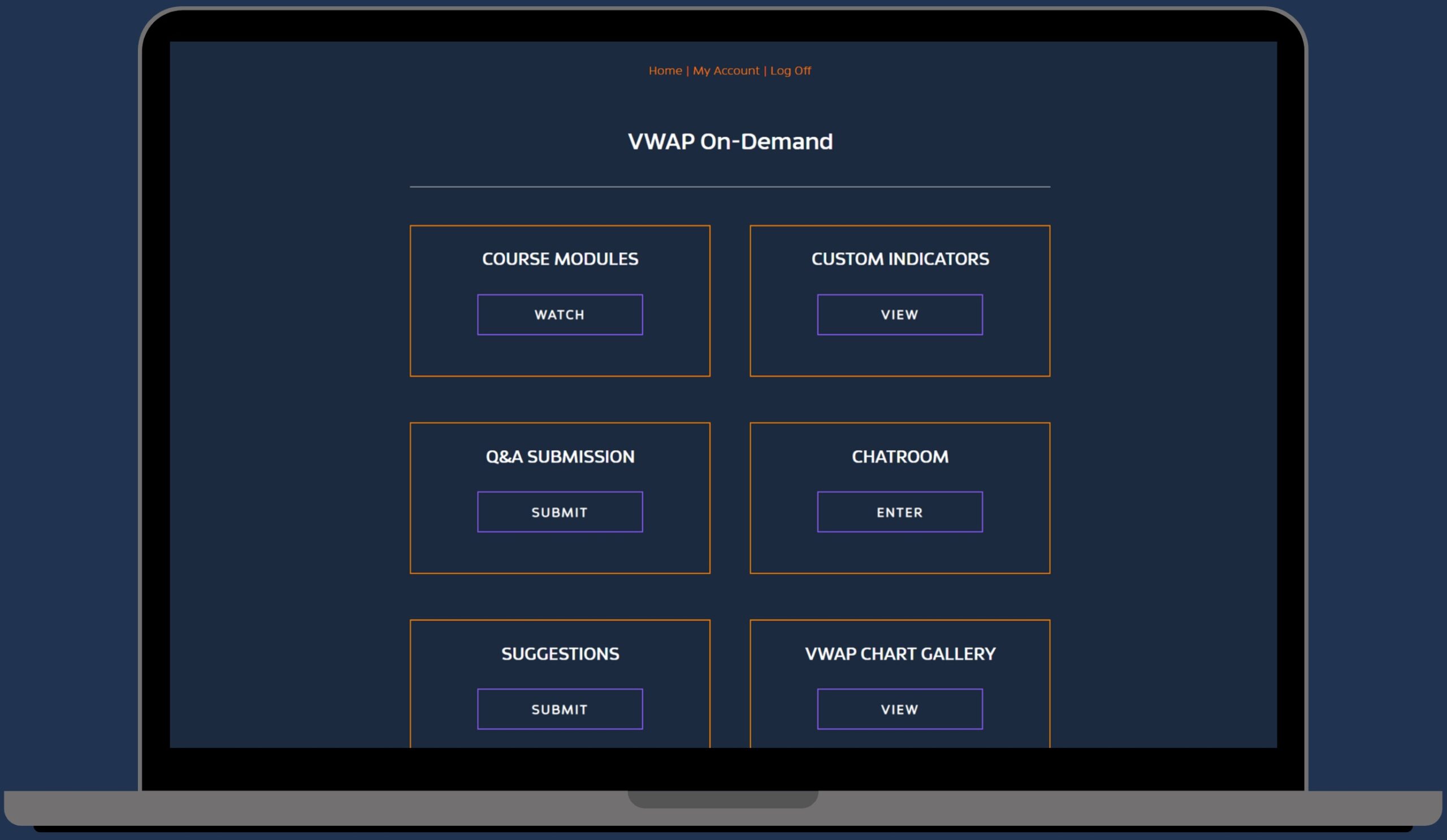 ---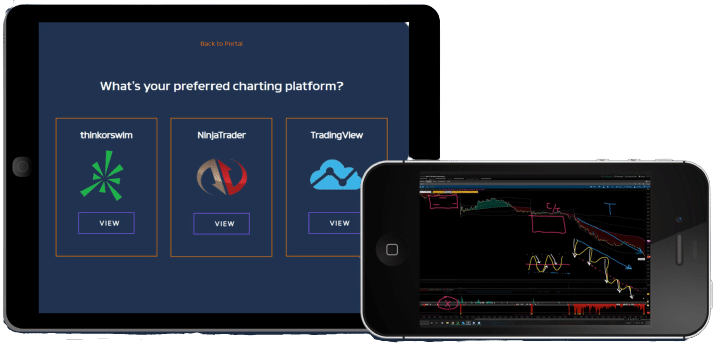 What does it cover?
---
Our recorded course illustrates VWAP's potential — to analyze any chart, assess its current direction and strength, identify likely support/resistance zones, and enter/exit trades based on that knowledge — through five detailed sections.
You'll also learn when and how to apply each of the six included custom indicators for day trading and/or swing trading, allowing you to effectively apply the concepts we discuss, regardless of your trading style.
The first section of the course is dedicated to the intraday use of volume-weighted average price, standard deviation bands, and the slope of VWAP. We'll walk you through three of our custom indicators — Intraday, Dashboard, and Aspect — and show you how each adds to our understanding of the chart.
We discuss both the philosophy behind VWAP (why it works) and the practical applications of our strategy. Before you can learn the specific mechanics of trade entries and exits, you need to understand how we use VWAP to dissect a chart by applying a consistent visual framework.
We'll also introduce our four primary trade types and multiple price patterns that we routinely use to participate in both trend and countertrend market environments. Each of these setups can be used in both directions, so you'll be able to adapt to the current market conditions and trade either long or short when the situation calls for it.
---
Video Lessons:
---
Expanded Applications of VWAP
Creating a Better Binary
VWAP Slope and Implications
Standard Deviation Bands
Zach's Four Primary Trade Types
Additional Intraday Price Patterns
Navigating Countertrend Moves
Capitalizing on Transitional Phases
---
---
Video Lessons:
---
Multiday VWAP Philosophy
DateVWAP Overview
EventVWAP Overview
Validating Multiday Anchors
Prioritizing Multiple VWAPs
Combining Intraday + Multiday
---
The second section focuses on alternative uses of VWAP — both macro and micro. We discuss the importance of incorporating multiday VWAPs anchored to key events in a chart's history and demonstrate how two more of our custom indicators — DateVWAP and EventVWAP — make it quick and easy to implement these concepts.
You'll learn how to determine the best anchor points, identify likely support/resistance zones on longer timeframes, and add helpful context to your intraday charts. This section covers the swing trading applications of VWAP, but day traders will also benefit from the additional context that multiday VWAPs provide.
Once you have a firm understanding of the custom indicators and the philosophy behind the strategy, we can now dive into the details. We'll teach you how to evaluate trade setup quality and use the support/resistance areas created by various VWAPs to enter/exit trades with a defined plan.
Learn how to determine your initial risk parameters and manage ongoing trades that move in your favor. This section consolidates much of the information presented in Intraday and Multiday and focuses on the practical implementation of the strategy.
---
Video Lessons:
---
Developing a Trade Plan
Evaluating Potential Trades
Risk & Trade Management
---
---
Video Lessons:
---
Cycle of Successful Trading
Common Mental Hurdles
---
Discussions on trading psychology rarely excite anyone, but it's still a crucial component of long-term success. All traders make mistakes, but learning how to continually improve — while minimizing the economic and emotional impact of such mistakes — is our main focus in this section.
The more you know about common struggles that traders face, the more prepared you'll be when you encounter them, sparing precious money and mental capital.
The final section is all about tying up loose ends. We discuss the final custom indicator — Average Volume — and how it can be used to complement your trading. Zach also covers his personal trading setup on thinkorswim and how he best utilizes their static and flexible chart grids throughout the day.
The numerous trade examples go hand-in-hand with the mechanics you learned in section three, and an additional Q&A segment fills in the gaps of any lingering questions that traders typically have after learning about our approach.
---
Video Lessons:
---
Average Volume Overview
thinkorswim Grid Layouts
Additional Q&A
Intraday Trade Examples
Multiday Trade Examples
---
---
---
Frequently Asked Questions
---
---
What do I need to know before I get started?
A preliminary understanding of the markets — basic knowledge of technical analysis, risk management and introductory trading principles — should be more than sufficient.
We didn't design the course for absolute beginners, nor for experts or advanced traders exclusively, either. If you have any questions about where you may stand, feel free to reach out.
---
Will I receive lifetime access?
Absolutely, there's no time limit on the included material. The course is entirely on-demand so it's available for you to watch whenever you want and as many times as you like.
Your access to the custom indicators will never expire, and there's no ongoing fees to remain part of the community chatroom.
---
How do I get the custom indicators on my charts?
The member portal contains step-by-step instructions for adding the indicators to all three of the available platforms — TD Ameritrade's thinkorswim, TradingView, and NinjaTrader 8.
We've tried to make the process as seamless as possible, but you can always reach out if you're having any trouble.
---
Can this strategy be applied to swing trading?
Absolutely! In particular, the Multiday section of the course focuses on identifying those longer-term areas of support and resistance through the use of our custom DateVWAP and EventVWAP indicators.
We'd also encourage you to watch the Intraday section as well, given that the broad mechanics across various VWAPs are identical, albeit at a smaller scale.
---
Can this strategy be applied to Futures trading?
Yes, and many traders who have taken the course trade Futures exclusively. As long as the instruments you're focusing on are consistently liquid (i.e. Emini [ES or NQ], Crude oil [CL], Gold [GC], etc.) then you're good to go.
We use equities charts and terminology throughout the course to teach the strategy, though the same concepts directly translate to Futures with perhaps slightly larger risk tolerance and accommodation for certain markets' idiosyncrasies (crop reports, limited trading hours, geopolitical or other externalities, etc.)
---
Can this strategy be applied to cryptocurrencies?
The relatively recent emergence of Bitcoin and other cryptocurrencies have made it more difficult to determine the long-term viability of the strategy of those markets, but we have seen evidence that VWAP can be effective on those instruments.
We don't cover any crypto-related examples in the course, but we believe many of the concepts we cover will translate.
---
Can this strategy be used on Forex?
Yes, but there are some general limitations when doing so. Given that those markets don't actively display transaction volume, the only way to calculate and plot a volume-weighted average price on the currency exchanges is to estimate and approximate volume. This removes the dynamic "volume-weighted" benefits that VWAP creates.
We've had some Forex traders tell us that they have successfully implemented VWAP anyway, but we always want to present that caveat to Forex traders so they're aware of the drawbacks and that the education isn't explicitly designed with those markets in mind.
---
Do you use any other indicators alongside VWAP?
No, the strategy is designed to be comprehensive and standalone. However, you're not required to eliminate any other tools that you already feel comfortable with.
Some traders who have taken the course still choose to use other simplistic indicators in addition to VWAP that they had previously grown accustomed to, so as long as it doesn't directly interfere with the strategy then there's no harm in it.
---
What kind of stocks do you recommend trading with this strategy?
We focus on anything with consistent liquidity, which means that most symbols listed on the major exchanges tend to be in play. Sufficient volume is a necessary prerequisite for VWAP (and our strategy) to be effective, so mid to large caps tend to be the most suitable candidates.
That doesn't necessarily mean high-priced or "blue chip" though, as it's not uncommon to find charts trading in the $10-30 range that are just as viable as ones trading at $100+.
---
Get instant access to VWAP On-Demand.
---