Less time finding opportunities.
More time capitalizing on them.
---
Our proprietary scanning platform offers real-time trade alerts of the specific setups we cover in VWAP On-Demand. Not included with a purchase of the course.
---
---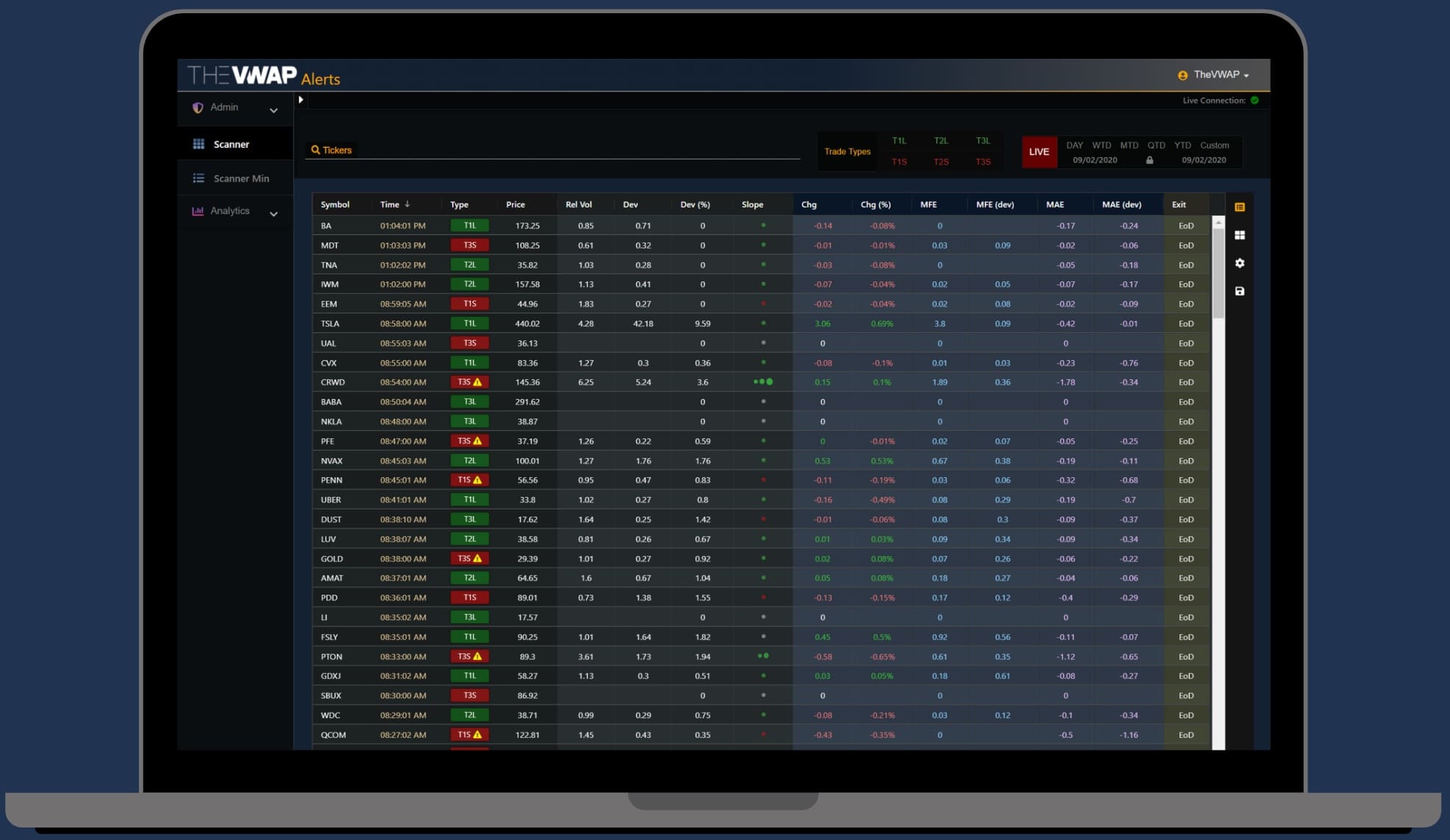 ---
Designed to be the
perfect complement

to the strategy we teach.
---
100+ daily trade candidates
Tracks alert performance for review
Apply filters, custom colorization, and personal watchlists
PC, Mac, and mobile friendly — log in from any browser
Take a look inside…
---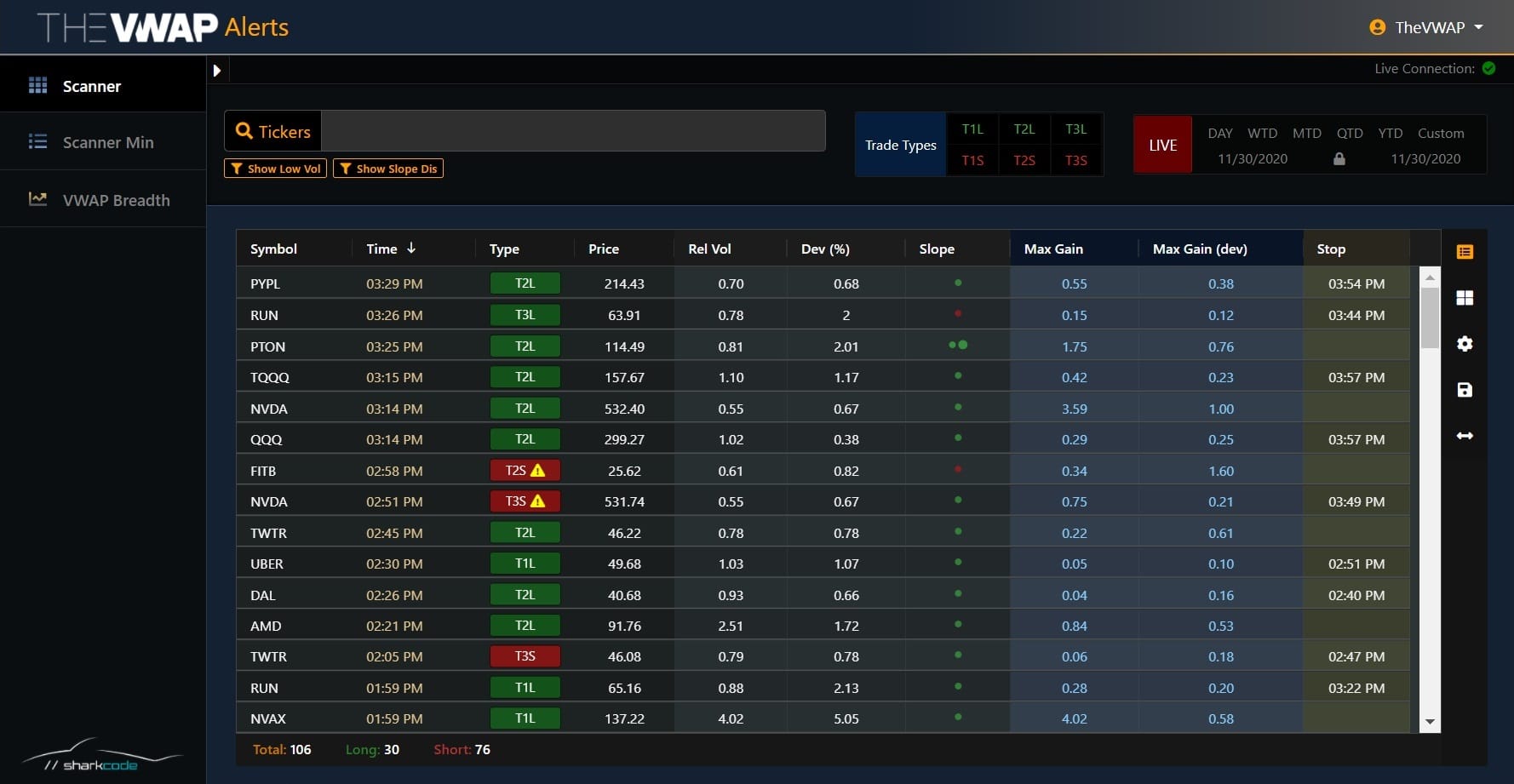 ---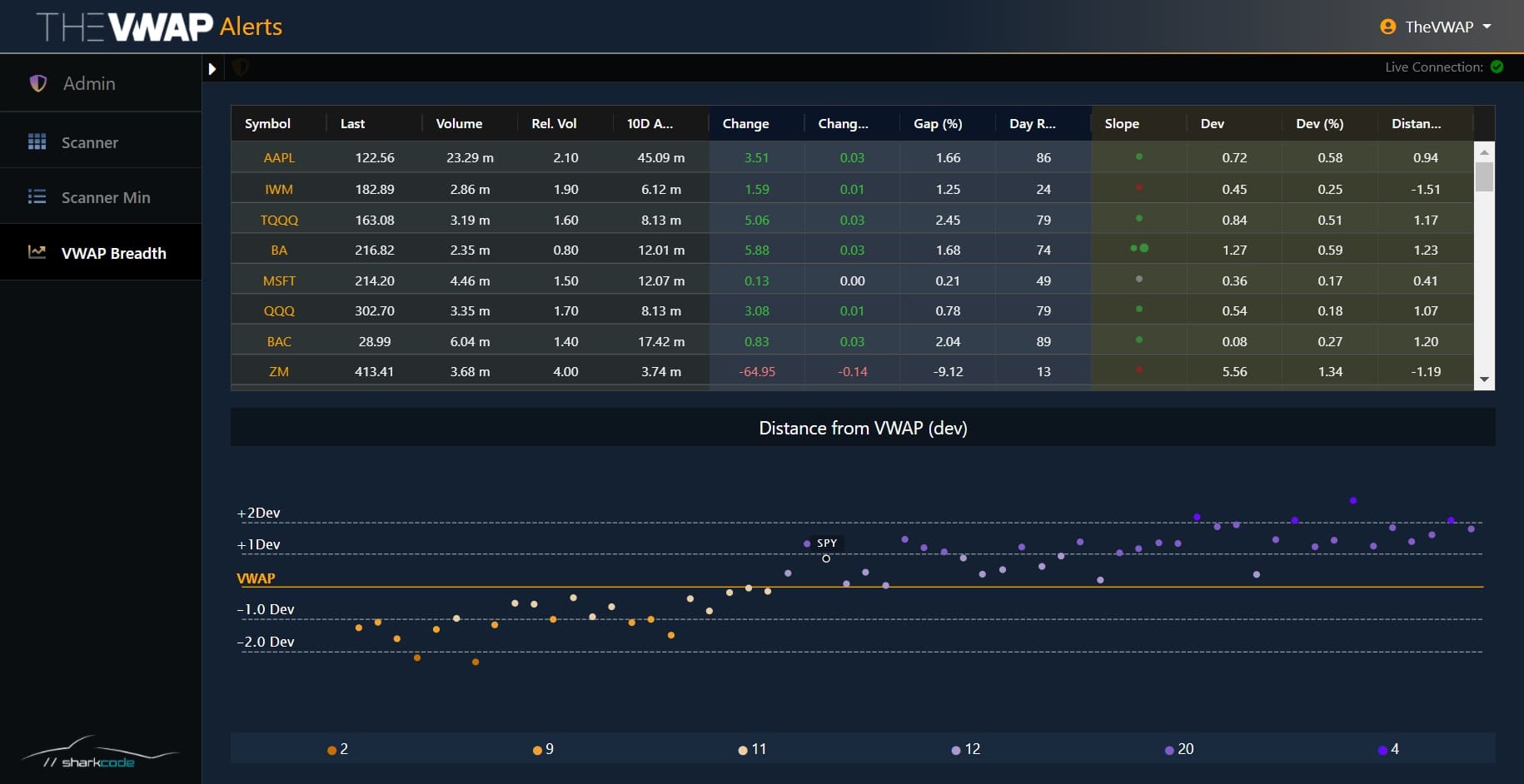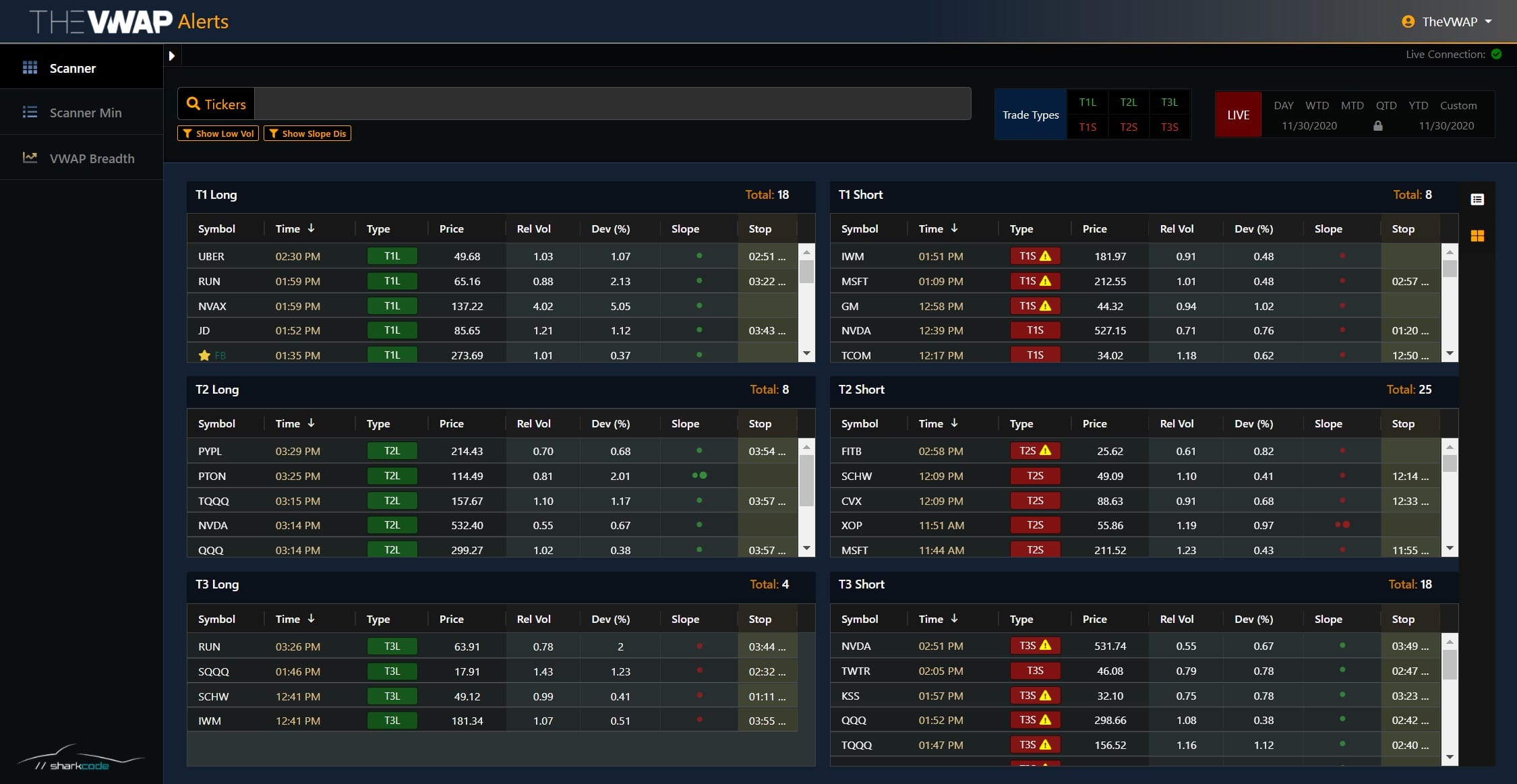 ---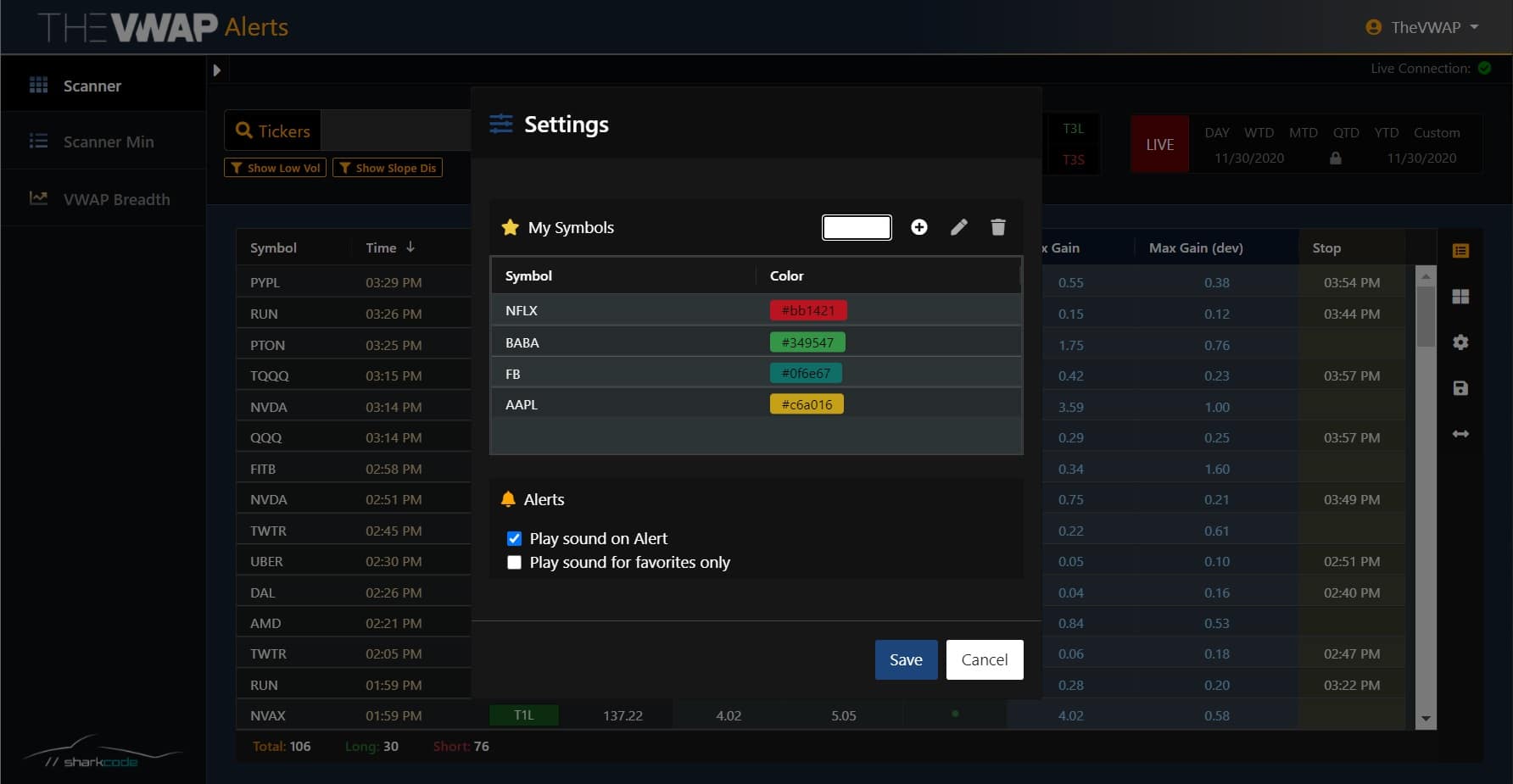 ---
Scanner FAQ
---
---
Is the scanner a trading system? Should I trade every alert?
The scanner is NOT a trading system, but rather a way of identifying possible trade candidates. Don't try to trade every alert; you'll find it nearly impossible to do so, even if you wanted to. Take time to evaluate each candidate and decide for yourself if the setup is valid and worth taking.
---
What time does the scanner start to provide alerts?
No alerts will be produced before 10:00 AM ET, given that VWAP is significantly less effective in the first half hour of the trading day when prices can often move erratically and we have less significant data to work with.
---
How many alerts will I get per day and can I limit the amount if I'm overwhelmed?
The number of alerts you'll receive will vary greatly from day to day depending on market conditions, but you can typically expect a minimum total of 100 across all of the trade types.
If you ever decide you'd like to receive less, you can apply your own custom filters (minimum/maximum price, volume, etc.) to the criteria for each individual scan to reduce the number of trade candidates that will pop up on your platform.
---
Do I have to be trading with real-time data or a funded account to get value from the scanner?
We believe the scanner can be a valuable tool for both live trading and training purposes. If you're currently paper trading or even just watching the markets to get a feel for it, the scanner will expose you to hundreds of VWAP setups every single day that you can pull up on your charts and analyze before the trade has a chance to play out.
Similar to baseball players spending time at the batting cages, competence comes through what Zach refers to as point-of-contact repetition. Rather than just going through the motions, you should actively challenge yourself to interpret market activity in real-time just as you would if you were live trading.