Membership Plans
*Limited-time offer: Sign up for a monthly plan and get free lifetime access to all of our custom indicators. Click here for more details.
*Limited-time offer: Sign up for a monthly plan and get all of our custom indicators.
Monthly
Annual
$97/month, billed monthly
$76/month, billed yearly
Included for limited time*
Join an active community.
Feedback from current members pulled straight from our chatroom.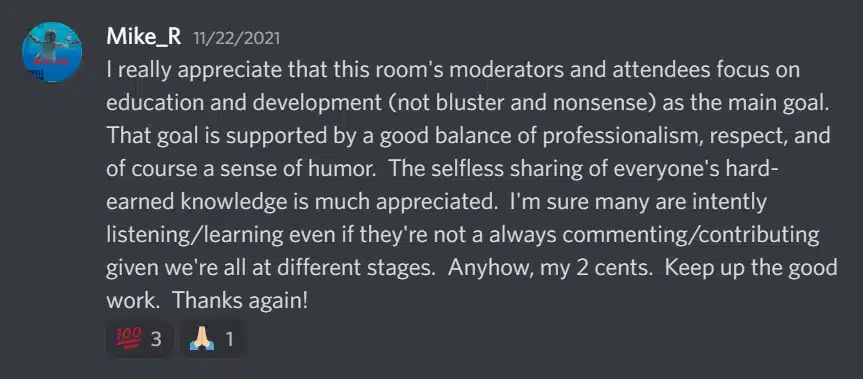 VIEW MORE TESTIMONIALS
What's included?
View a brief overview below or click here for more details.
On-Demand Video Course
Just over 16 hours of recorded instruction organized into a structured curriculum, covering everything you need to know about the way we trade.
Community Chatroom
The primary hub of our community. We discuss potential setups in real-time, review trades, monitor relevant news, and answer all member questions.
Live Trading Stream
Starting every trading day at 9:00am ET, watch our moderators execute trades and share their thought process via live stream — both voice and screenshare.
Real-Time VWAP Scans
Over 100 prequalified instances of our primary trade types identified and alerted every day — delivered straight into the chatroom via Discord bot.
Weekly Webinars
Once a week we hold an after-market hours webinar to revisit setups from the past week, answer member questions, and drill down on particular topics.
Priority Chat Support
If you have a question, our moderators are always just a click away. Whether it's via DM, the main chatroom, or the livestream — we're here to help.
Course Preview
Learn how we use VWAP to distinguish between trend and counter-trend markets.
Access a full suite of custom tools.
To implement our strategy we use several tailor-made indicators. Collectively, they give you the ability to:
Plot VWAPs and standard deviation bands of any duration
Manually or auto-anchor VWAPs to any point on a chart
Measure and monitor the slope of intraday VWAP
Track key VWAP metrics in a consolidated dashboard
Lifetime access to every single indicator is included with an annual membership. Our video library also includes comprehensive tutorials covering each tool and how they should be used.

To learn more, click here for detailed descriptions of each indicator.
Frequently Asked Questions
What happens after I sign up?
After you sign up for either membership plan, you'll be granted immediate access to our member portal. It contains everything you need to get started, including tutorials for all of the tools we provide.

And if you sign up for an annual plan, you'll be able to find all of our custom indicators that are included with your membership in the portal as well.
What topics and information does the video library cover?
Our course curriculum explores VWAP's potential to analyze any chart, assess its current direction and strength, identify likely support/resistance zones, and enter/manage/exit trades based on that knowledge.

We also cover the ins and outs of risk management — both in terms of managing an entire account and individual trades. To learn more, be sure to check out a detailed breakdown of each membership feature.
Can this be implemented using options?
Absolutely, and the nuances of using options with our approach is something our moderators are always happy to discuss in the chatroom. This can include strike/expiration selection, the ways in which risk management can differ with options versus shares, and more.

Two of our moderators frequently trades SPY/SPX options, and we have many members that trade both SPY/SPX and single-list equity options as well.
Can this strategy be used for swing trading?
Yes. One of the sections of our video library focuses on all the different ways we utilize longer-term anchored VWAPs, both for swing trading and to provide additional intraday context for day trading. We also provide tutorials on how we use our four anchored VWAP indicators — DateVWAP, AutoVWAP, EventVWAP, and VWAP Boulevard — to implement those concepts.

It's safe to say that the majority of our members are intraday-focused, but we have plenty of swing traders utilizing this framework as well.
Can this strategy be applied to futures trading?
Yes, and many of our members trade futures exclusively. As long as the instruments you're focusing on are consistently liquid — ES, NQ, CL, GC, etc. — then you're good to go. We even have traders that on currency and bond futures as well.

A lot of our available video lessons use equities charts and terminology to initially teach our strategy, but the same concepts are directly applicable to futures. To demonstrate, you can click here to view some futures-specific chart examples.

And in our chatroom, we actively track and evaluate the S&P and NASDAQ E-minis through the lens of VWAP every day — identifying key levels to watch and providing commentary on the trickle-down effect their performance has on equities and other markets.
What kind of stocks do you recommend trading with this strategy?
For those trading equities, you should be focusing on charts that trade with sufficient and consistent liquidity. There are companies in all different price ranges that fit this criteria — small, mid and large caps.

Ultimately, we recommened narrowing your focus to only a handful of names that can provide opportunities on a consistent basis. We're always happy to help new members with this process, so please reach out after signing up if needed.
Can this strategy be applied to cryptocurrencies?
Yes, but with the necessary caveat that the coin in question trades with sufficient liquidity. The obvious candidates matching this condition are Bitcoin and Ethereum, but some other more prominent coins are applicable as well. You can click here to view some chart examples of those particular markets.
Limited-Time Offer*
Signing up for a monthly membership plan will also give you lifetime access to all of our custom VWAP indicators, regardless of how long your subscription remains active.

This benefit is typically only reserved for annual plans.