VWAP On-Demand
Lifetime access to the last trading course you'll ever need.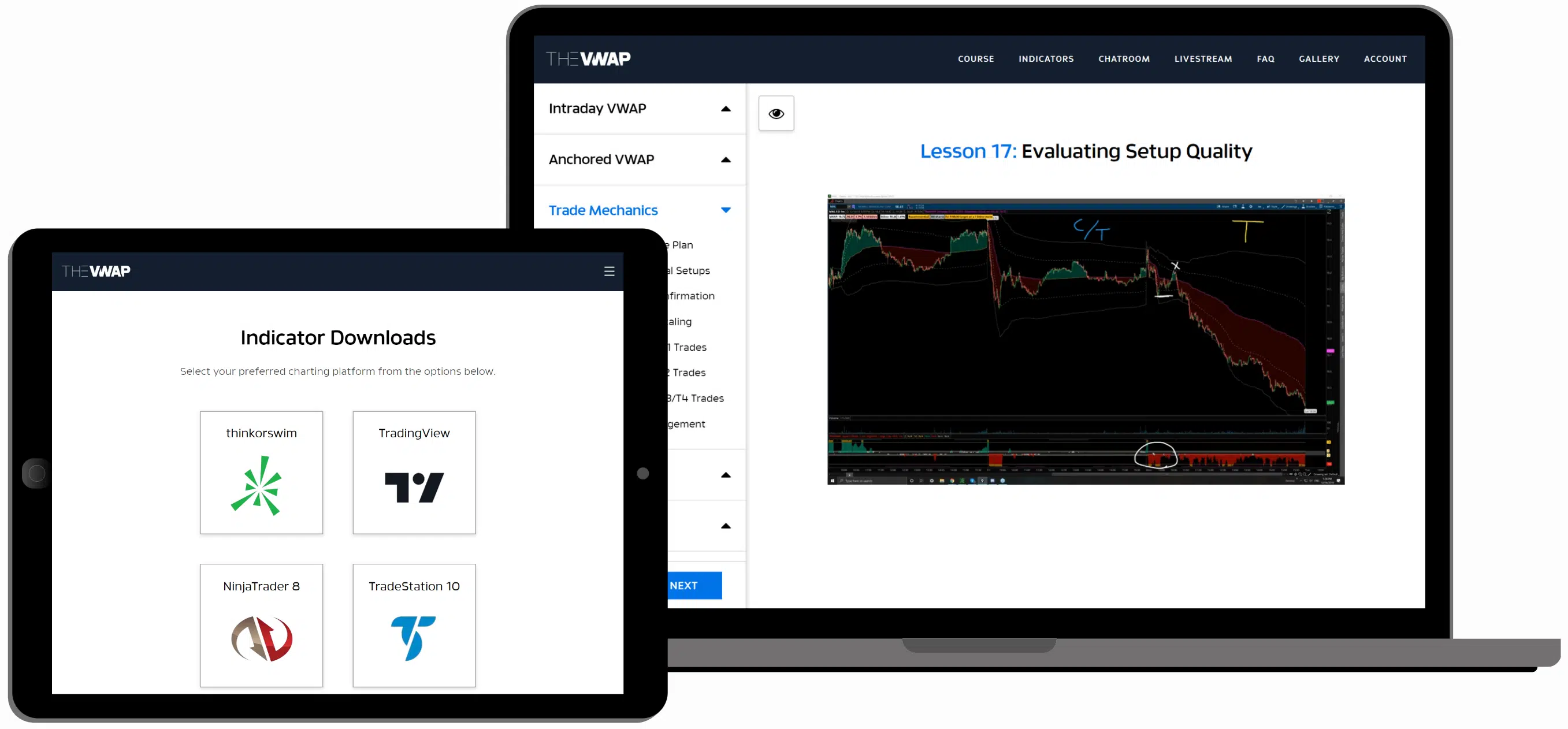 16 hours of instruction, custom indicators, and free chatroom membership.
Start Now — $550
What's included?
You'll receive instant access to our member portal, which includes:
Hear from our current members.
A small collection of feedback pulled straight from our Discord server.
A collection of feedback pulled straight from our Discord.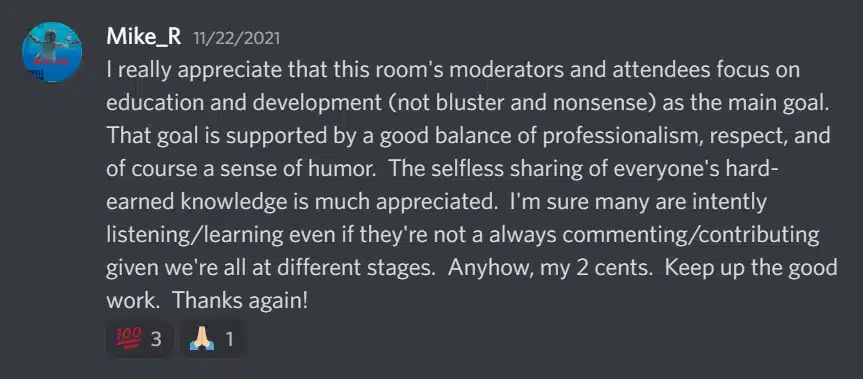 View More Reviews
What does the course cover?
The video lessons are divided into five sections — Intraday VWAP, Anchored VWAP, Mechanics, Psychology, and Bonus.
Intraday VWAP
Trending vs consolidation
Anchored VWAP
Identifying anchor points
Using multiple timeframes
Trade Mechanics
Setup entry/exit criteria
Frequently Asked Questions
What happens after I sign up?
Once you sign up, you'll be able to log into our member portal at any time to watch the course, download the indicators, or view the chart gallery. It also includes an invite link to join our community chatroom, as well as several tutorial videos to help get you up to speed ASAP.
What information does the course include?
Our course curriculum covers every aspect of the strategy we trade and teach. We discuss how we use VWAP and deviation bands to analyze any chart, assess its current direction and strength, identify likely support/resistance zones, and enter/manage/exit trades based on that knowledge.

We also cover more general trading concepts as well like defining and managing risk, selecting which markets and instruments to focus on, and setting up your charts.

And for those interested, we have plenty of additional modules discussing the mental side of trading — common hurdles, bad habits, managing mistakes, etc.
How do I get the custom indicators on my charts?
Our member portal contains step-by-step instructions for adding the indicators to all four of the available platforms — thinkorswim, TradingView, NinjaTrader 8, and TradeStation.

We've worked to make the process as seamless as possible, but you can always reach out if you're having any trouble.
Can this be implemented using options?
Absolutely, and the nuances of using options with our approach is something we discuss in the course and often in the chatroom as well. This includes strike/expiration selection, the ways in which risk management can differ with options versus shares, and more.

Two of our chatroom moderators frequently trades SPY/SPX options, and we have many members that trade both SPY/SPX and single-list equity options as well.
Can this strategy be used for swing trading?
Yes. One of the sections of the course focuses on all the different ways we utilize longer-term anchored VWAPs, both for swing trading and to provide additional intraday context for day trading. We also provide tutorials on how we use our primary anchored VWAP indicator — DateVWAP — to implement those concepts.

It's safe to say that the majority of our members are intraday-focused, but we have plenty of swing traders utilizing this framework as well.
Can this strategy be applied to futures trading?
Yes, and many of our members trade futures exclusively. As long as the markets you're focusing on are consistently liquid — ES, NQ, CL, GC, etc. — then you're good to go. We even have traders that focus on currency and bond futures as well.

A lot of our available video lessons use equities charts and terminology to initially teach our strategy, but the same concepts are directly applicable to futures. To demonstrate, you can click here to view some futures-specific chart examples.

And in our chatroom, we actively track and evaluate the S&P and NASDAQ E-minis through the lens of VWAP every day — identifying key levels to watch and providing commentary on the trickle-down effect their performance has on equities and other markets.
What kind of stocks do you recommend trading with this strategy?
For those trading equities, you should be focusing on charts that trade with sufficient and consistent liquidity. There are companies in all different price ranges that fit this criteria — small, mid and large caps.

Ultimately, we recommened narrowing your focus to only a handful of names that can provide opportunities on a consistent basis. We have video lessons discussing the process of choosing your target market(s), and you're welcome to reach out with questions after signing up as well.
Can this strategy be applied to cryptocurrencies?
Yes, but with the necessary caveat that the coin in question trades with sufficient liquidity. The obvious candidates matching this condition are Bitcoin and Ethereum, but some other more prominent coins are applicable as well. You can click here to view some chart examples of those particular markets.