Choose your platform.
Our custom VWAP Boulevard indicator is available for both thinkorswim and TradingView — 100% free.
If you've never heard of VWAP Boulevard before, here's an overview.
The easiest way to familiarize yourself with VWAP Boulevard is to watch this interview with our lead moderator — James Ferreira. In the interview James discusses the basics, goes over several chart examples, and details how he personally uses the indicator in his own trading.

Popularized by AllDayFaders (@team3dstocks on Twitter), the original idea behind VWAP Boulevard is straightforward:

1. Identify the highest-volume days in a chart's history (typically 1-3).
2. Determine the closing value of the intraday volume-weighted average price on those days.
3. Draw a static line on your chart at those identified price levels.

Those static lines can then be used as ongoing reference points for potential support/resistance when price trades back up/down to those identified levels. Here's a short summary from ADF himself.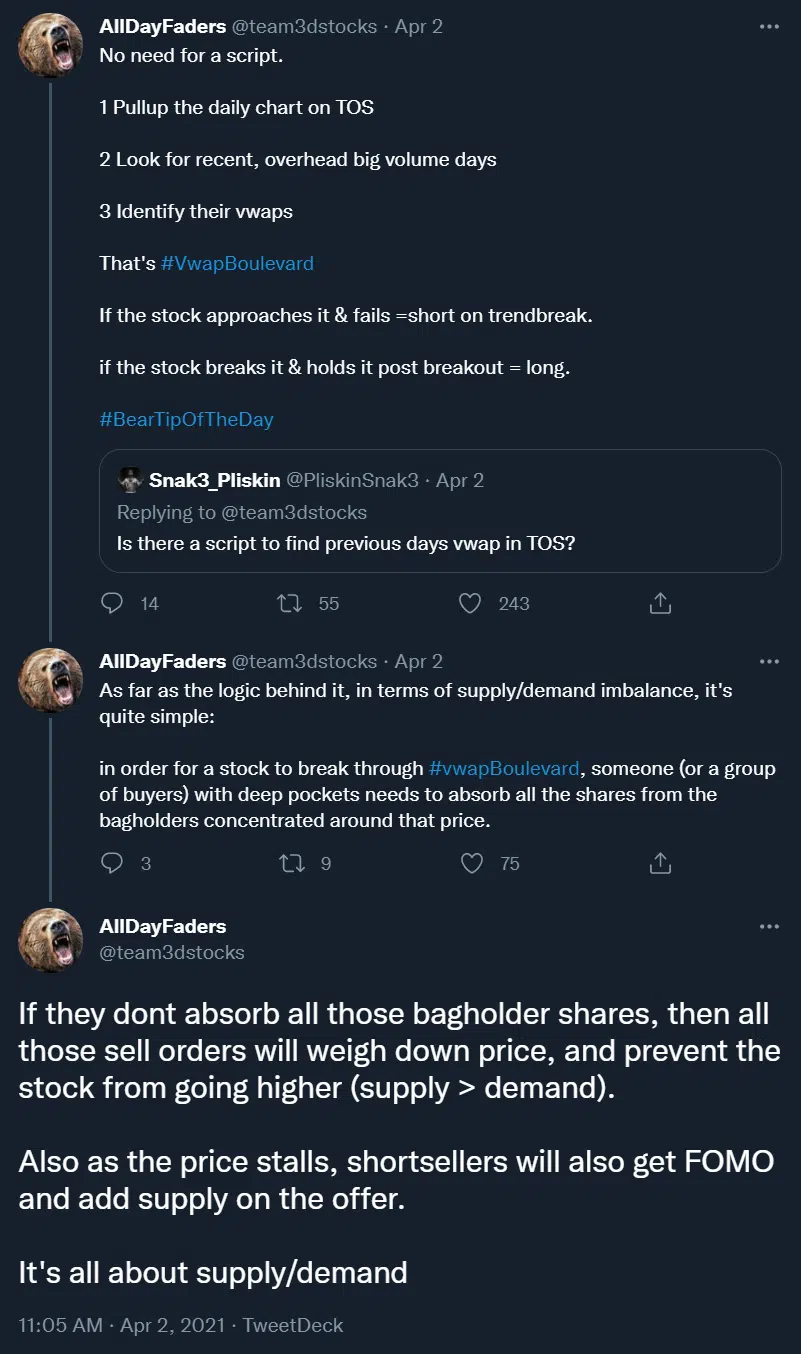 So if there's no need for a script, why did we create one?

First and foremost — we're obsessed with VWAP. Our founder, Zach Hurwitz, has been coding and creating advanced applications of VWAP for over a decade now, so when he heard of Boulevard he was instantly intrigued.

In addition to the use of standard deviation bands on an intraday VWAP, we're big fans of anchoring VWAPs to significant events in a chart's history. Earnings reports, technical gaps, IPOs, and high-volume days are only a few examples. However, since we've always been partial to the use of continuous VWAPs — rather than static plots of past intraday VWAPs — naturally, our curiosity was piqued.

Additionally, just because you don't NEED an indicator to accomplish something doesn't mean it's not nice to have. Time is precious in trading, and having a tool that prevents you from having to manually identify the levels you're seeking on every new chart is immensely helpful.


We released our Boulevard script for thinkorswim back in June of 2021, and now after working closely with an incredible Pine Script programmer we have a version available for TradingView as well.

Both versions will automatically locate up to three of the highest-volume days in a chart's history, determine their end-of-day intraday VWAP values, and plot a static line at the identified values.

And because we're VWAP aficionados ourselves, we added on some additional functionality. You're also able to view continuous VWAPs from those same high-volume days if you wish, which can be displayed alongside or in place of the static Boulevards.

It's great to see more traders discovering the power of VWAP in all forms, and it's our hope that these free tools will encourage traders to continue exploring additional uses of VWAP and how it can have a positive impact on your trading.


If you're interested in more free VWAP resources, sign up for our introductory toolkit to get another custom indicator, our detailed eBook, exclusive video content, and more.
GET THE TOOLKIT